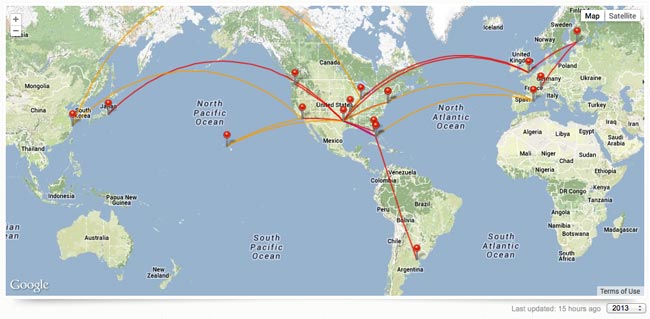 An interesting thing occurred to me. Prior to this year I fed into the idea that travel was a rare event. That it somehow could only happen when all the stars aligned and you were gifted huge amounts of cash. When we went to Paris in 2011, I recall a good number of people reciting from the script of life,
Oh, that's a ONCE in a lifetime trip!
I first found myself confused by this sentiment. Why will I only go to Paris ONCE in my lifetime? The more I heard it, the more I found this notion not making sense at all to me and, if I am being honest, the more it started to make me angry. In 2011 I flew 12576 miles and visited Paris, France…Austin with Pamela and Chicago on my own. One new country and only the second time I had been outside the United States (the previous was Jamaica).
I considered this more in 2012 as Pamela and I went to Hawaii, back to Austin and to NYC. I took my first solo trip to Washington D.C. as a personal exploration. In total I flew 16625 miles that year and visited no new countries.
My New Year's Resolution for 2013 (I rarely make these) was to start using my Passport AND make American Airlines Executive Platinum Status. It seemed a crazy idea, but often the seeming insurmountable task can be achieved with only a little planning. I took this task one step at a time…I charted everything and I succeeded!
Above you can see my flights for this year (yes 2013 only). This will seem huge to some of my friends, while to others I have made in the frequent flyer community it will be normal or even a light travel year. In total I flew 110,624 miles and visited 6 new countries (8 if you count airports which I generally do not).
For so long, I was afraid and I let that fear paralyzed me. The world was a scary place. I don't speak the language. Planes are uncomfortable. How will I respond to the time changes? What if something happens? I don't know anyone. I will be alone. There are a million other excuses, none of them valid. My eyes have been opened to a world that exists outside my own shell. I would be a fool to say I have no feat, but it's so much less so than a year ago.
My biggest challenge this year has been time. It's time that will be the undoing of us all. Most of my trips are short, generally lasting 5 days (one day traveling, three days in the destination, and one day traveling home). I generally do these over minor U.S. holidays as I want to be home with Pamela and my family on the major ones. There is never enough TIME and I have come to appreciate how finite this is…how special.
It's this, that implores me to press on with my journeys. There is so much to see and so little previous time to see it.