We just returned from Austin for our first SXSW Interactive (SXSWi) experience and we are ready to book our trip for next year. Along the way I learned quite a few things I will use on my trip next year and I thought I would share it with all of you.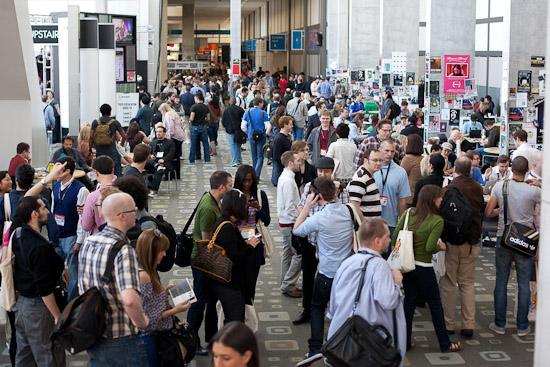 image by IPBrian ©
Be Prepared for SXSARS
I got sick on day three. Really sick. I felt miserable. Sore throat, minor fever, ache, sniffles, etc. I figured I had the standard conference cold and Pamela would be short to follow, only she never got sick. I apparently fell victim to the overwhelming force that is Austin, TX pollen.
Checking the forecast, I found that tree pollen was High, specifically, elm, oak, pecan and ash which apparently kill my system. If I had been prepared I would have checked the allergen forecast from weather.com and found a suitable anti-histamine. Next trip, I will prepare better.
Moreover, anytime you pack 19,000 people (from the world over) into a convention center, there is bound to be germs spread. Wash your hands regularly and use the hand sanitizer stations setup in all the venues.
Hydrate, Hydrate, Hydrate
This goes almost without saying, but at any conference where colds, long days (nights) and free alcohol abound, you need to stay hydrated. The conference has coolers strategically placed around the venues. Buy one expensive bottle of water in the morning and refill it multiple times. Our hotel would fill grocery lists for us so we ordered a case of water from the local big box store for only a few dollars. One case of H2O cost us what you might usually pay for a few bottles at the conference so we had a clean bottle every day.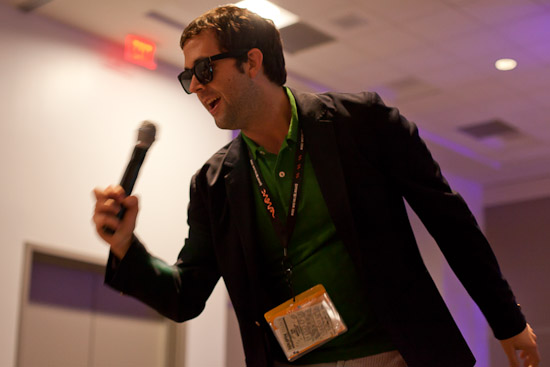 image by IPBrian ©
Keep Your Feet Dry!
About the same time I got sick, I got blisters on my feet. This was a result of not having the proper socks. Bring twice as many socks as you reasonably need for a week and change you socks half-way trough the day if needed. An extra pair of shoes are advisable as well, but can add bulk so see the travel light section.
Travel Light
I brought my 5D Mark II with a 50mm lens. I carried it everywhere. It weighs less than 3lbs, but it sucked beyond belief. In the end I took 91 pictures which, in retrospect, was not worth the hassle. The 50mm was too short to really get close to anything I wasn't already in close proximity to. Further a big lens like a 70-200 would be a nightmare. If you have a specific reason to bring a DSLR or a laptop, by all means bring it along. I brought the laptop as well, but it stayed in the hotel and didn't get used much. Next year, I will likely be relying on my iPhone almost exclusively.
image by IPBrian ©
Bring ID
I forgot business cards. Old media right? WRONG! Unless you are Gary Vaynerchuk people need a way to remember your contact info and business cards are still king. I have varied interest so I ended up handing out Pamela's card which I think probably had less impact. Prepare beforehand by having something unique and special printed specifically for the conference.
Some Sessions Are More Equal that Others
Some sessions fill up fast. If you really want to attend a particular session be sure to get there early. For some reason Monday seemed more busy than any other day. I made the mistake of getting lulled into believing I would always be able to get into the sessions I wanted, then Monday hit and I got turned away again and again. There were queues outside full sessions and as people leave new people are allowed in. People leaving for the bathroom don't get back in.
Some of the complaints I heard most were how the titles of sessions didn't really match up with the content. Further, my selection process was based entirely on the online description. I found the pocket guide to enhance my understanding of the content, but didn't get that info till the start of the conference.
Try, as best as you can to explore the history of the speaker and what they are going to be speaking on. Make sure you have two or three possibilities if you decide 10 minutes in this isn't the for you, move on. Many of the sessions I attended were not as billed and I ended up staying too long.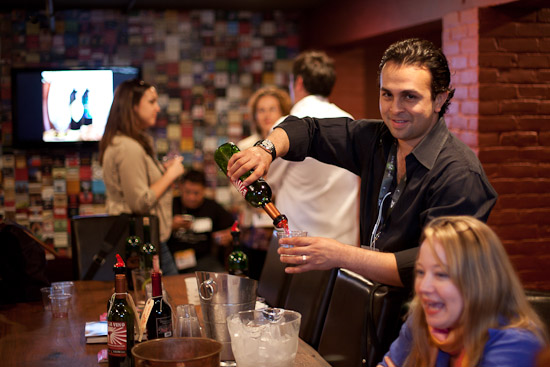 image by IPBrian ©
Plan Downtime
There are about 30 things to do at any given time. Multiple, sessions, parties, lounges, meet-ups, etc are all vying for your attention. If you try to do all of them you will run yourself ragged. You are going to need to pick and choose what you are going to do. Sometimes this is not a problem, others it is almost painful. Build in downtime during the day to hit a coffee shop or just hang out in one of the lounges. Make sure you find time to eat lunch and dinner.
Home Away From Home
Your choice of hotel has a strong impact on your options. Price was one of our chief concerns so we ended up staying closer to the airport than the convention center. This move probably saved us $400 a night (we paid $119/night), but it comes with the inconvenience of not being able to easily access your room. The conference shuttle usually only took about 15 minutes one way, but you also had to wait for pickup. A round trip to the hotel could take an hour and while sometimes this was not a problem, other times it made the trip impossible. One of the first nights I ended up carrying my swag bag and camera around the after parties (very cool).
In the end I think the networking opportunities of the conference easily outweighed the information I gained from the sessions. We spent quite a bit of time in the blogger's lounge and met quite a number of good people. This conference is all about making connections, and in the end I think the free books and t-shirts may have all but paid for the price of our admission.