I went back and looked today and realized, it has been nearly four months since my original post proclaiming this shell of a website was online.
My intent centered around spending some quality time on the things I love and sharing them will all of you…well the 22 people who for some reason visited last month, and promptly left.
Perhaps it is an indication of the shear amount of work my other project, Thrive Personal Fitness can generate (I am the technical person for our Personal Training business). Perhaps I am just lazy.
Some of the problem lies in trying to figure out what I want IPBrian.com to be. You see I tend to have the attention span of one of those small yippie dogs. I can easily be excited to death about fitness, only to put that excitement on the back burner for the latest in the world of tech (iPad…drool…).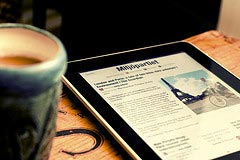 image by
Johan Larsson
Currently I am mad obsessed with Photography. I joined the National Association of Photoshop Professionals and then signed up for Kelby Training and have been spending quite a bit of personal time watching Computer Based Training (more to come on this world in future posts). A good deal of this probably goes back to Thrive Personal Fitness.
We need a decent number of images, specifically of Pamela, and in typical fashion I want to do it in house rather than hire someone to do our photography and retouching. I am not the best photographer in the world, but I am learning. I need to spend more time honing the craft, but have to balance it with everything else I am doing.
We spent an afternoon recently taking photos in the studio at Drury University with our friend Justin and I fell in love with strobes. Much of my Kelby training thus far has been watching Joe McNally ramble (Joe you do ramble, but it is brilliant much of the time and as evidenced by my own post, I appreciate a good ramble) about lighting. That sort of control of light is something I just love working with; trying to sculpt the light.
I can't make grandiose promises about daily posts, but I do need to better allocate my time to get in here an blog on a more regular basis. I surely need some more structure to my normal yippy dog, key jingling, attention diverting……SQUIRREL
!!!
B